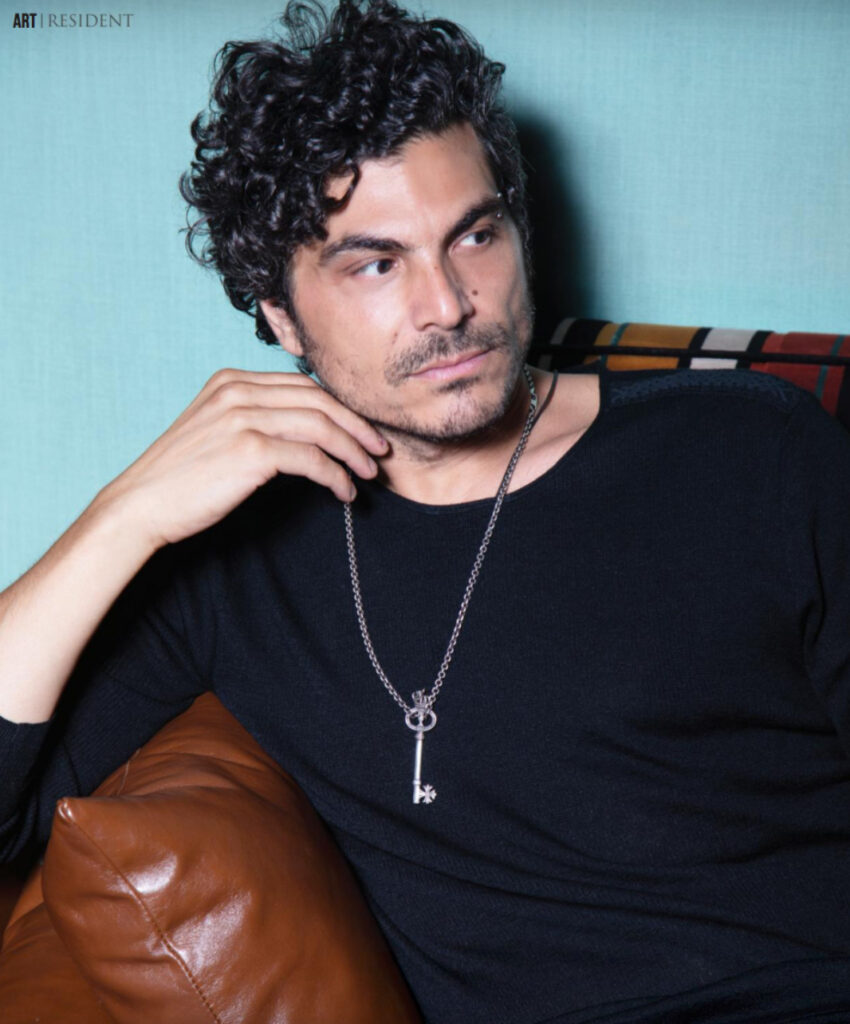 The international multidisciplinary abstract artist Oussamah Ghandour has in recent months become somewhat of a household name in the art world. Sought after and recognized as an artist of immensely varied and deeply coded works that instantly draws the viewer in,
begging to be deciphered – a collaboration between the viewer and the work – Ghandour, a tall, dark, and strikingly handsome gentleman (one wonders why he has not yet been tapped for the runway), with eyes as focused as sharp as a piece of steel cutting right through the soul of everything he studies, Ghandour is a virtuoso at taking the literal and re-inventing it into some of the most majestic, vibrant, and potentially abstract works of any contemporary artist today. "My subconscious is much more articulate than I am," says the artist. "I do my part in experiencing life, and when I paint, I don't try to control the outcome of the piece."
Born in Lebanon in 1978, Ghandour's journey as an artist recalls him as a young boy in war-torn Lebanon, within a setting of bloodshed and hatred. Ghandour's boy-self could be forgiven were he to have developed a cold, reclusive and wary persona while he explored the mysteries of nature and the heart – two prevalent themes throughout his artwork; yet his inquisitive young boy saw in that world a warmth, truth, the beauty of his surroundings, and its direct and resolute impact on the nurturing of the heart, the soul.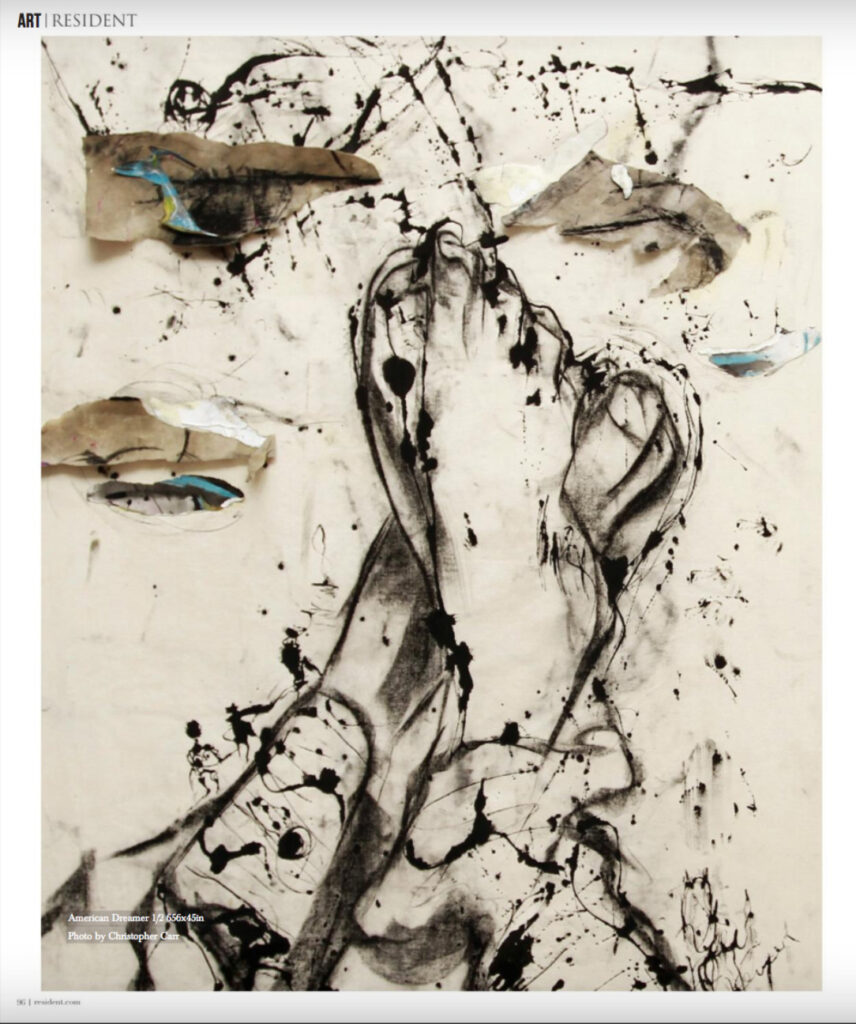 For the young Ghandour, nature was a direct result of nurture. Even amid a, dare one say, "picturesque" frame depicting military offices, machine guns, collapsed homes laden with debris, and depravity. No, this boy artist, full of spirit and a need to expose exquisite beauty in all its forms, picked up a brush and began to paint. His newly established world was a peek into what can happen when dark and light emerge as one. When asked what fascinates an draws him to his constant excavation of light versus dark, Ghandour responds "The magic is in the subtlety. It could easily be missed. But what's the fun of it if everyone can see it."
After studying Liberal Arts with a focus on Visual Arts at York University in Toronto – coupled with a degree in graphic design and communication from the Academy of Design – Ghandour initially chose "the professional world," working in design.
"It influenced my work in a tremendous way", says Ghandour. "Firstly, from the design perspective, I find myself sensitive to space and environment. So when I'm looking at the blank canvas, I'm able to see connections in design that will balance the painting". But the artist within him never strayed far. He continued painting as a hobby. "The way I interpret my art is that each medium I use is always a continuation of my story. That's why when I interrupt a sketch into a painting, it doesn't necessarily have to look the same, because from there I'm documenting from that subject. When I'm finished with the painting, the story isn't over yet; I take a photograph of the painting and take it into a digital realm and graphically continue the story. It's interesting to me because when I paint, I shut my brain off as much as possible and depend on my instinct and intuition. When I work on the paintings digitally, I start analyzing closer, thereby building on an existing emotion." Art, it seems, is the nature of Ghandour, naturally devoting himself to living, breathing, painting, and sketching full time.
Ghandour's creative and instinctive universe is a pure sensorial experience. His abstract works recall his memories and emotions – perhaps of his boyhood past – and provide a glimpse into his past experiences, many travels (he has lived in Riyadh, Doha, Nice, Toronto, Beirut and Dubai before finally settling in Brooklyn, NY) and emotional self. "My environment is my inspiration. Nature, people, situations, conversations," he exclaims. "I usually carry a sketchbook everywhere I go. Thoughts ignite my imagination, which turns into sketches and paintings". His diverse paintings and sketches mirror many universal human conditions. "I document the subtleties of the experiences of emotions: not just in humans but my impressions left behind." They illustrate rich narratives full of depth and pathos – in vibrant, vivid detail – as if carrying a soundtrack of their own. "I like to work on two paintings at the same time. It allows me to extract pure expression, one that is subconscious and another that is cerebral. I usually know I'm finished when the image is just about to be defined; AMBIGUOUS enough to allow the mind to create multiple stories on the same subject matter." For this visceral artist, every minute counts, and every second is an opportunity gained or lost.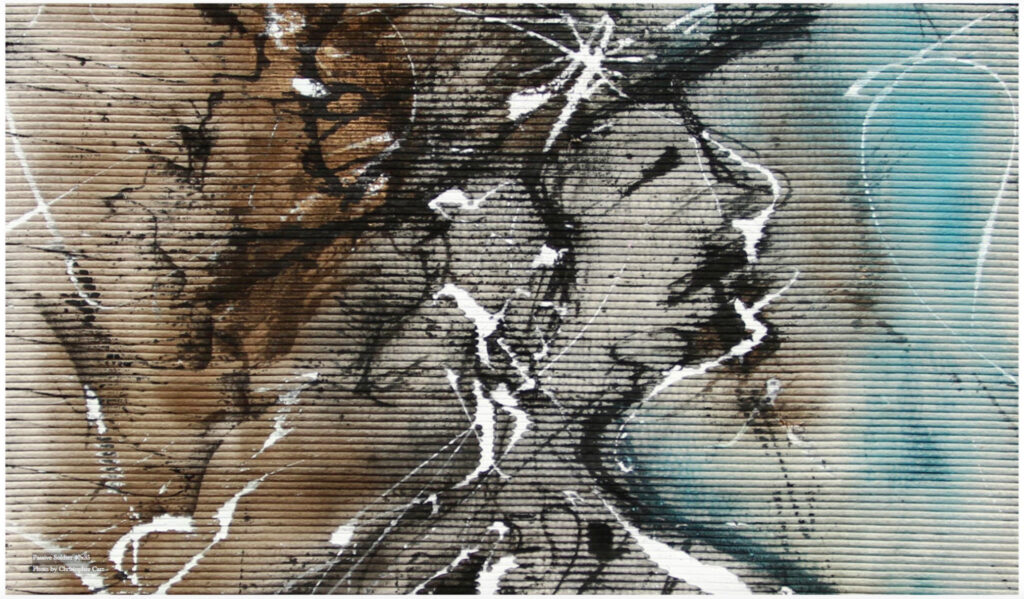 Unsurprisingly, many of Ghandour's paintings show the artist continually exploring, sometimes with somewhat unusual materials. "If I have to say anything, it would be that I have a free hand. Not bounded by formalized rules. One of the obligations for an artist is to always discover and challenge ourselves, trust in the intuition and enter into the visible unknown; always coming out with a deepened and transformative discovery; that's the obligation of the artist."
He uses asphalt as his foundation, and tar to seal all the cracks. Even living, breathing life forms have sometimes found themselves excavating his canvas with their lifeblood. His 2017 drawing, Fire In The Circle, involved the squeezing and smearing of a dead beetle. When I ask him about this, he emphatically declares, "I find it very interesting to decipher and excavate the known, and even more revelatory to uncover what is darkly visible." That's why I always strive for truth in expression and having a free hand, a free spirit. Freedom is paramount for art and for the living. Mental. Physical. Societal. Familial. The combination of my environment, intuition, and natural forces of the universe documenting, sometimes hypothesizing on this with a free and unrestricted mind and body; an inclusive heart has been my biggest education thus far."
Perusing the bold, broad strokes of Ghandour's abstract painting and sketches, one is unmistakably struck by the fact that this artist is on a singular journey – defiant of all conventional, obstructive ideologies in form and structure. No, this artist prefers instead to free himself and delve proudly and unabashedly into the soul. He takes you on a journey of what it truly is to have an out of body experience, or rather, a totally in the body experience.
When asked what the meaning and language is behind much of this abstract work, his answer is not surprisingly a searching in and on itself: "The meaning behind the work is hard to place because I'm forever searching for meaning in everything. But every painting presents more sets of questions. I like to think that the language of my work is a universal poetry carried over from situations, conversations, experiences, gains, losses, questions, observations, awakenings, and resolutions."
This statement is enough to make any human question, what is the meaning of one's existence! They say art is a subjective experience, but I begin to learn that this unassuming, soft-spoken, yet astonishingly self-aware artist is also something of a shaman; a truth teller, and flag-bearer for the brightly ringing day and the deadening of dawn. By the end of a viewing of Ghandour's works, one is likely to be left dumbfounded by who the deeply intuitive artist Ghandour is; and that is evident in each painting or sketch, he is a man who (by his very nature,) never forgets a single beat or moment. Even more so, he never lets you, the voyeur, forget that each stroke that your eye glances, each moment, is the single most important thing to have occurred in your life.
When I ask Ghandour – whose works have been exhibited at Christie's, Lebanese Consulate of Art, Whitebox Arts Center, Bushwick Open Studios, and Art Love – where he would like to see his work showcased next. His quick-witted, joking reply is every bit as flamboyant, yet deeply grounded as some of his paintings: "Well, the Whitney wants to host my first retrospective, which is odd because I'm only forty. And, I'm contemplating an extravagant show at Soane's Museum in London. They could use an upstart, you know. Ha-ha! But seriously, I do love those museums nearly s much as I love dreaming; so you see, the sky's the limit".