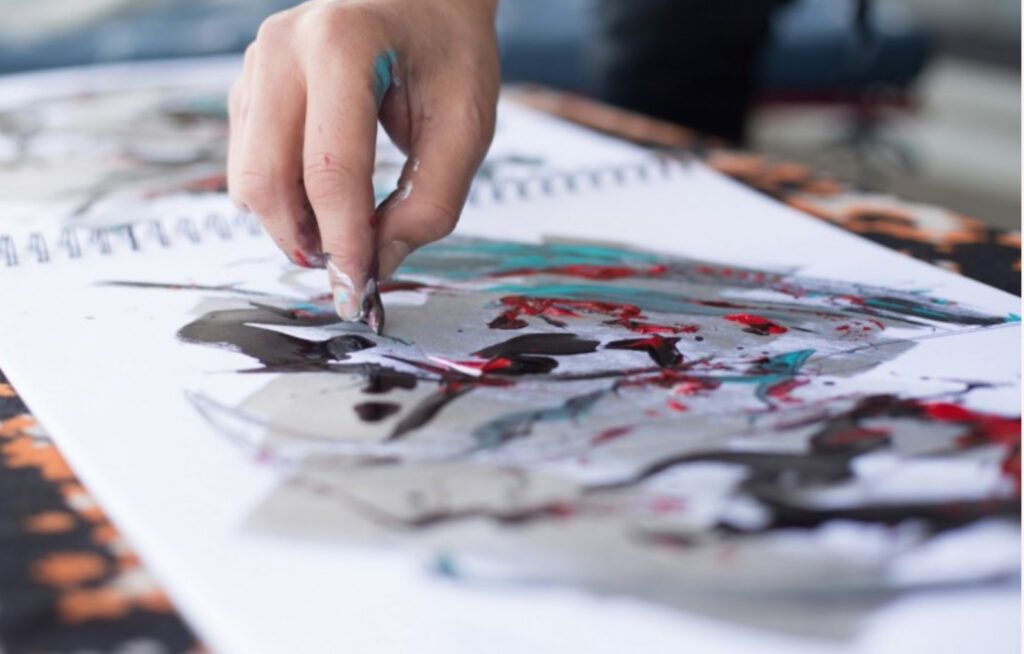 Do you remember that episode of Mad Men when Don Draper decides to quit the ad business and follow his true calling as a painter? Ok, you're right, that never happened on Mad Men. But it did happen in real life for ad-man Oussamah Ghandour. Born in Beirut, and educated in Toronto, Ghandour found himself at a top ad agency in the glittering city of Dubai, concocting new ways to hawk chicken, sneakers, cars. He was engaged to a beautiful woman and his life was set. He could see the path to upper management paved out in front of him. It was a good life, but it just didn't feel like his life. So he hit the reset button.
"I felt that I fucked up the direction of my soul," says Ghandour, reflecting on his last days in Dubai. "I was building their dream, the corporate dream, but I forgot about mine." So he walked away from success and all of its trappings: the office (with its view of Dubai's resplendent waterfront), the Mercedes, the luxury apartment with the swimming pool on the roof, the beautiful fiancé. He took whatever he had squirreled away, and did some traveling. Wandering along the Seine in Paris, he reflected on his life. "I couldn't stop thinking about the art studio in college and how you could always hear piano music there because we were located near the music department." At the urging of a friend, he decided to move to New York.
Six years later, standing in his Greenpoint art studio, which is flooded in natural light and overcome by the scent of turpentine, he can trace his path of transformation from ad-man to artist. "I was blown away by the patchwork of the city. The utopian freedom of it," Ghandour says, recalling his early days in New York. He began sketching furiously, carrying a notebook everywhere, in the park, on the subway, in the street. His early works on canvas were charcoals. Simple yet swarming with ideas, he describes them as "minimalist sketches, segments of personalities reflecting my empathy toward people and my surroundings." It was part of his process of letting the past go. "I needed to deconstruct myself to move forward," he recalls. "Freedom lies in breaking the patterns of the self." Now his ideas and his art and his life flow together like a seascape bathed in sunlight: the beach becomes the water becomes the sky.
Lately Ghandour has been painting large contemporary art pieces on canvas that incorporate an element of texture or collage. They are vibrant, dynamic works that call to you with coded messages that change from moment to moment. Ghandour has not yet settled upon an agent or a gallery to represent him, but he has several private collectors who seek out his work. He has been exhibited at galleries here and there, but he is reticent to delve too deeply into the commerce side of art at this point. "With everything I do, I want to live, to create," he says, gesticulating wildly as if conducting an orchestra. "I don't want to approach my art as if it were a branch of the marketing world."
So for now, Ghandour embraces his art and eschews the art world. He counts Basquiat, Pollock, Kandinsky, and Van Gogh among his influences, but he shies away from viewing their work at museums. He gets his inspiration from New York City and its people. He paints about 10 hours a day, almost every day, focusing inward on "finding his own brush." His journey is his chosen destination, and his advice to aspiring artists is this: "Either you feel it or you don't. If it's in you, pursue it." In no way does Ghandour long for the pretty, shiny things he left behind in Dubai. He followed his bliss and found it. "My life and art are together now."
INTERVIEW BY KAREN FRAGALA-SMITH
PHOTOGRAPHY BY CHIAKI KATO
LOCATION: THE HOME OF NATALIE SCHAFFER